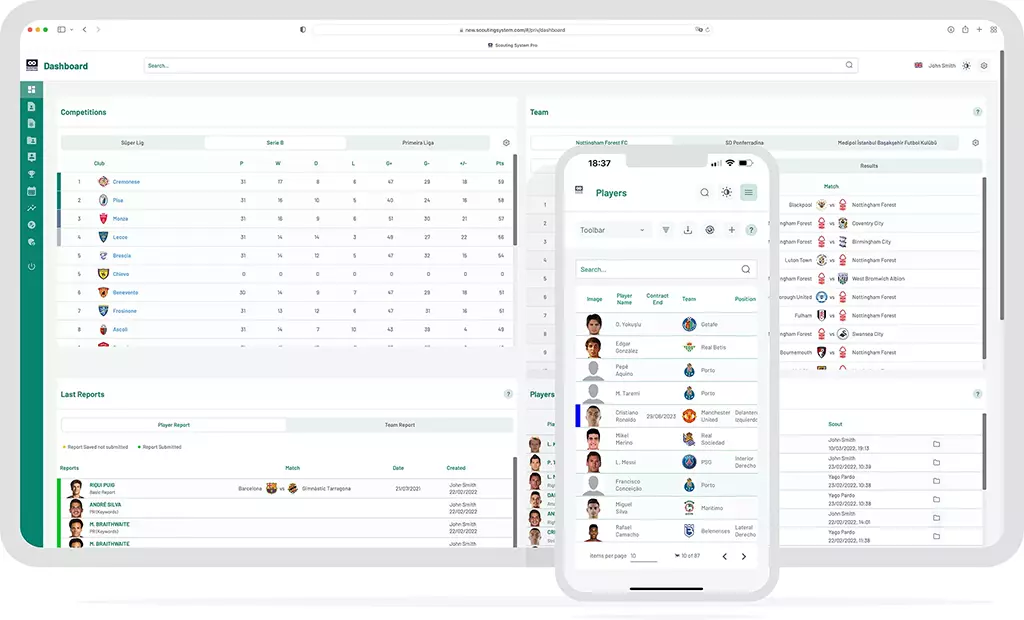 We have a long track record of building scouting systems for professional football clubs, leagues, and federations
Access to one of the most complete databases
With Scouting System, you can access a database with more than 350.000 players and 26.000 teams, to help you save time.
Any place, any time!
Scouting System can be accessed from a computer, tablet or smartphone, at any place and any time, with the utmost security.
Totally Secure!
Our platform and all its data can be hosted on the client's server with greater security and reliability.
Customized versions
An exclusive platform made just for you and according to your methodology.

It's possible to manage different teams and groups with the same login

Customized dashboard
Different levels of access
Users and their permissions are defined and adjusted by the client.
Shortlist/Shadow Teams/Best 11
Create your Shortlists/Shadow Teams/Best 11 manually or using our automation tools.
We have 3 different platforms available:
Create reports, positions, methodology, and metrics and customized search filters; various analytical report templates; comprehensive players and teams database; Mobile app for smartphones (iOS / Android); daily backups.
Manage all the information gathered about the transfer market; the player's available menu is organized by the clients' needs; visualize and track every single deal and make business decisions; secure chat; database updated daily.
Follow two competitions and have access to teams' and players' databases of these two competitions; create and manage players' and teams' reports; calendar feature is available.
Get in touch with us and experience a live demo of Scouting System, ask questions and get all the answers.
We just need some details from you and soon you will be in touch with our sales specialist.
We are leaders in the development of customized scouting solutions
"Whether it is video, written reports, data, background checks or good old-fashioned scouting from the stands, it all goes into the big decision-making melting pot. And when you make a decision, all this information allows you to mitigate the risk you are taking."